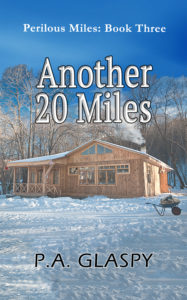 Another 20 Miles
Perilous Miles – Book Three

For some, the road leads to salvation. For others, it's the last chance for freedom.
The Chambers family has come to grips with the world as they knew it being gone. They know the city is the last place they want to be. With no modern vehicles working, they need another way to get out. They just have to figure out what that is.
Major Sorley has to acquire the president-elect in New York City and get him back to Washington before President Olstein can destroy what remains of the Republic. This is not a one-man job. He's going to need help.
A family's plight to escape; a soldier's mission to complete.
Get your copy of Another 20 Miles: Perilous Miles Book 3 today!