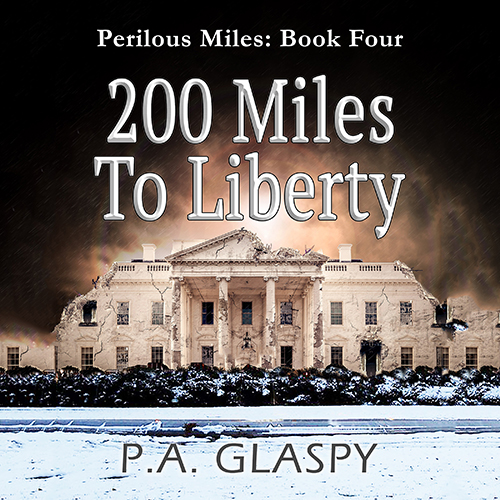 Have you been waiting for 200 Miles to Liberty on audio? The wait is over!
Happy Halloween! Can you believe this year is almost over? Now that the weather has FINALLY cooled off, I am so looking forward to…

Read More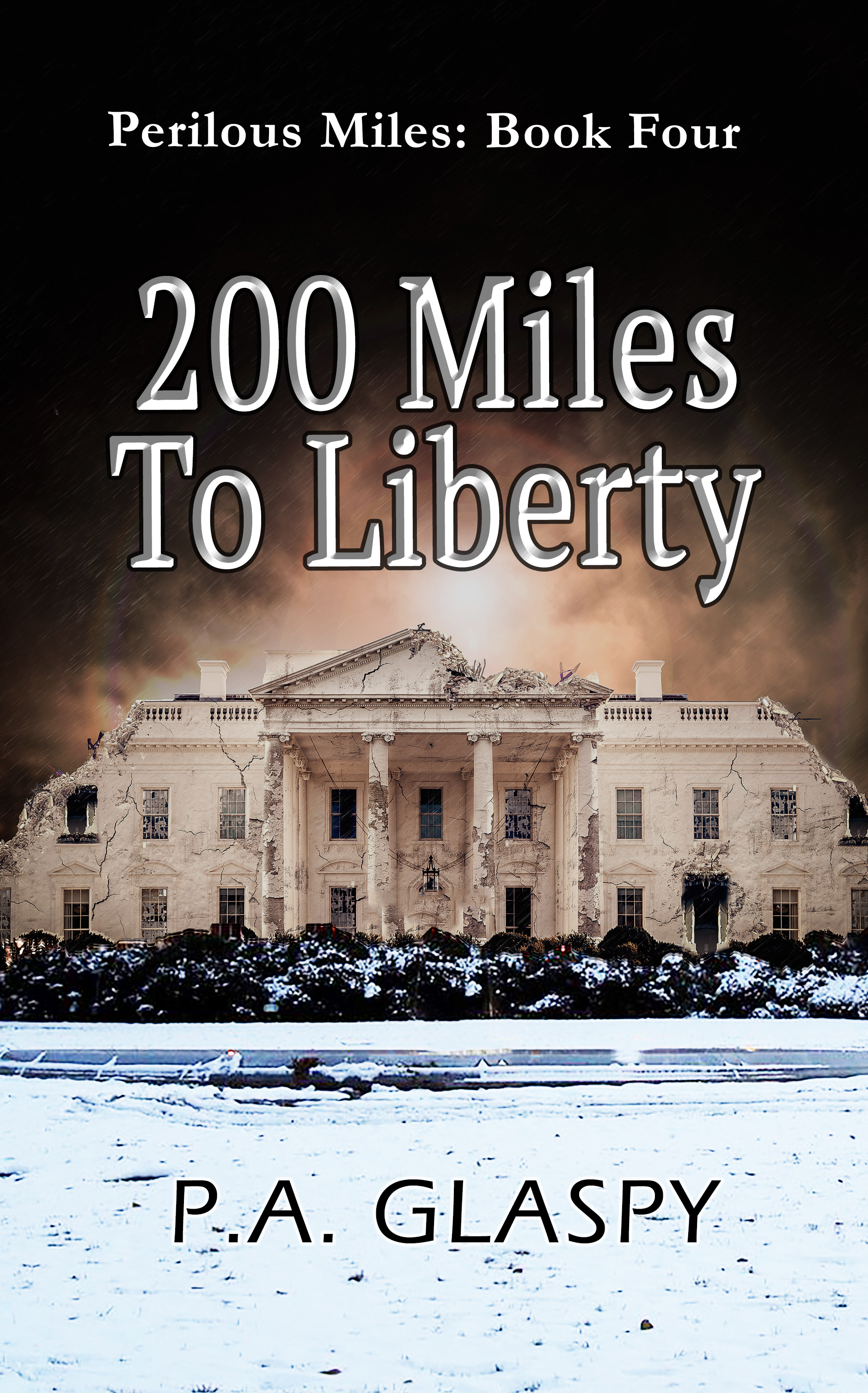 200 Miles To Liberty is Live!
FINALLY! This baby is done! I'm going to make this short but sweet as I'm working on the paperback right now. I just pushed the launch button this morning and
Read More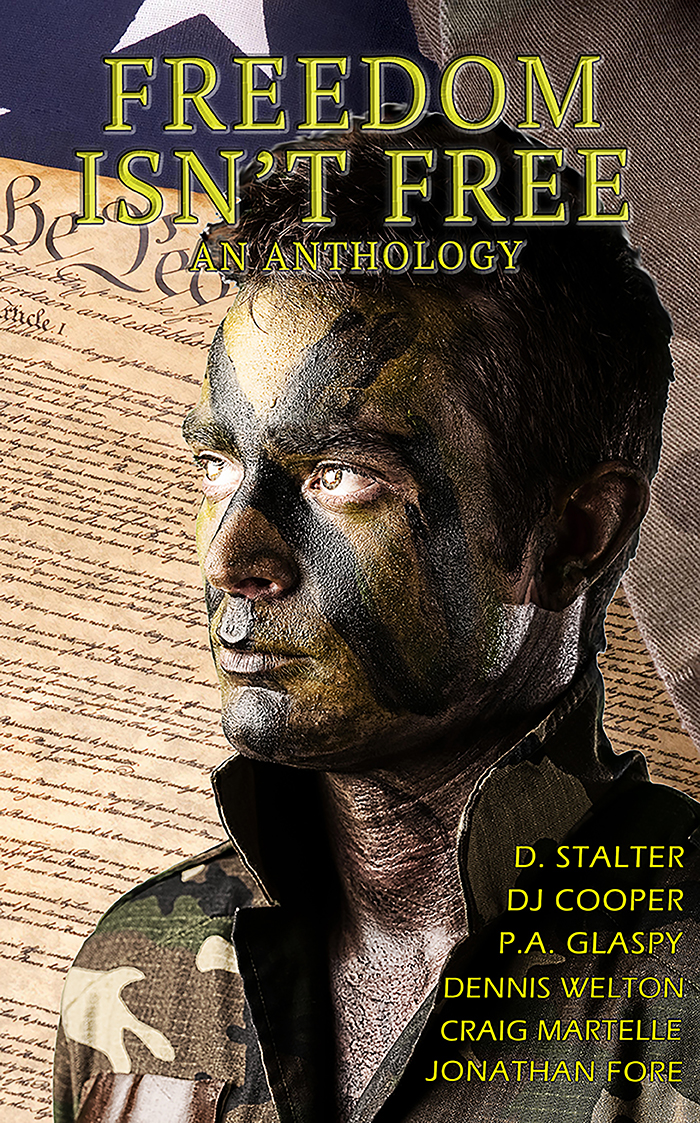 The next anthology to benefit the Disabled American Veterans is live!
I was really hoping I was going to be sending this email out this morning. I mean, the significance of launching a book of stories about veterans, whose proceeds go to help veterans, on a day set aside to honor those we've lost in battle gives me goosebumps. How does that saying go – the best-laid plans …
Read More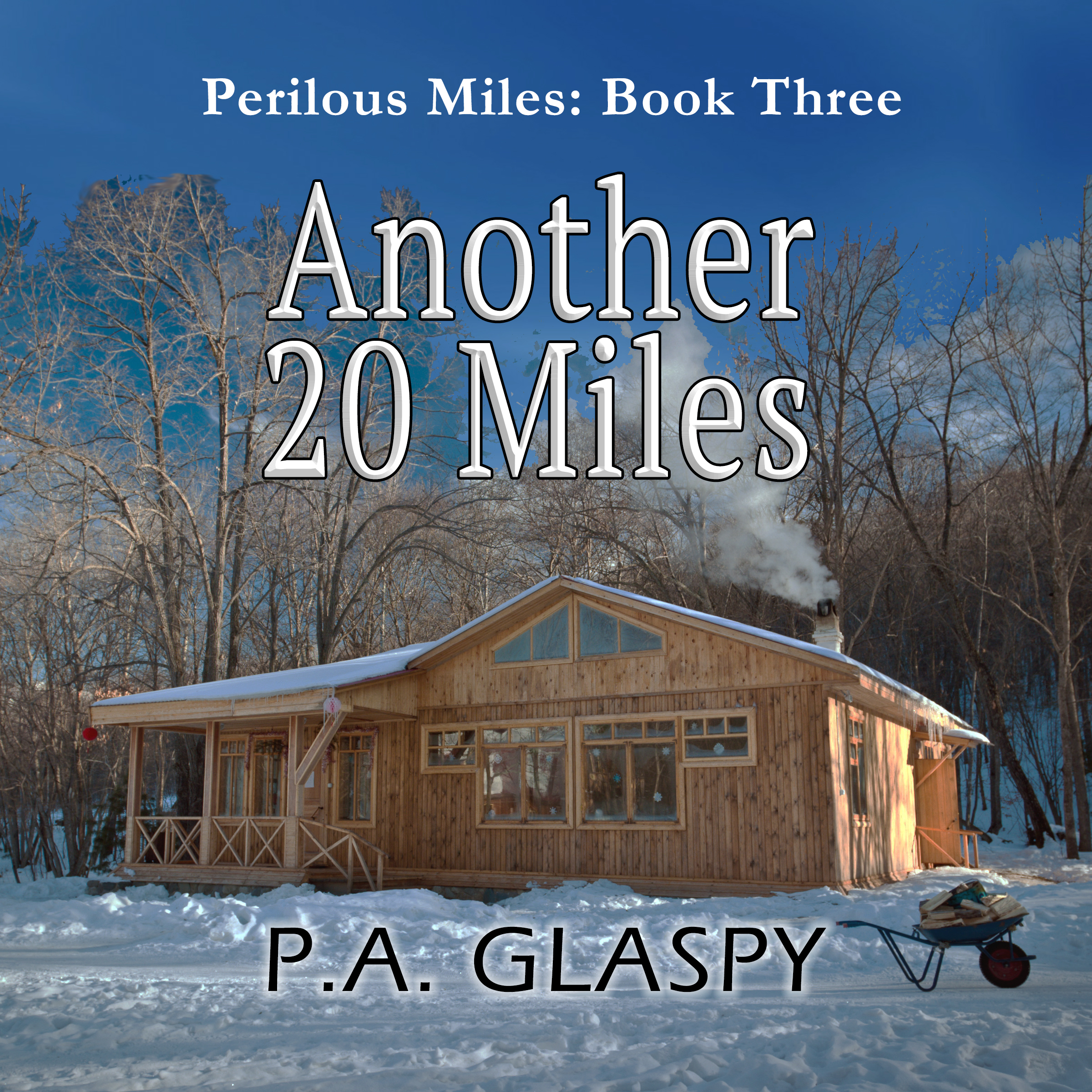 Audio lovers – it's here!
The wait is over!
Another 20 Miles
is live on Audible and a month before I thought it would be. Get your copy here:
Another 20 Miles Audio
Read More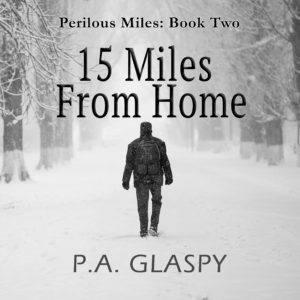 Audio, Can Coolers and More
In case you didn't know (and I think there's quite a few of you who don't), 15 Miles from Home is live on Audible! For my audio loving friends, if you haven't grabbed it yet, get it now!
15 Miles From Home – Audio
We had a great push to get to 1,000 likes on the Facebook page. The new goal is to get to 1,500 and you can help. There are a lot more people on this list than likes on the page, so please help an old gal out and like the author page.
Read More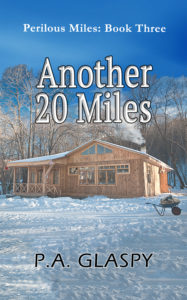 Happy Father's Day, Dads! Another 20 Miles is Live!
That's right – two deadlines in a row met! Booyah! Go me!
The next book in the Perilous Miles series is live! Get yours here:
Another 20 Miles
Before you ask, the paperback is in the review stage, and I have no idea when the audio will be ready. 🙂
To celebrate, I'm running book 1,
300 Miles
, free for five days in ebook. If you don't have it already, here's your chance to get it free. If you do have it, and loved it, share the love with your friends. It's free from 6/16 through 6/20.
Read More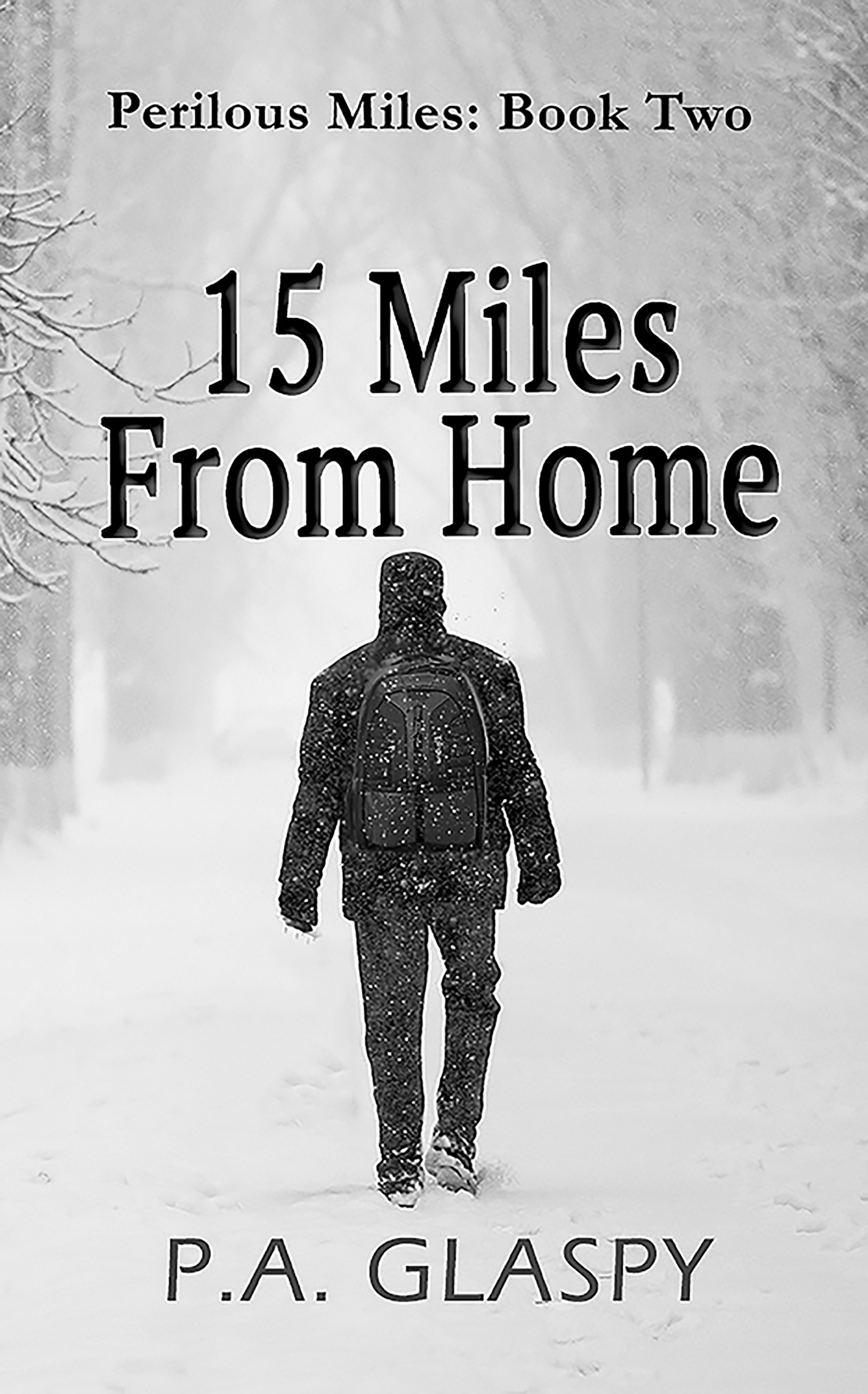 15 Miles From Home is Live!
I beat my deadline – YAY! Book 2 in the Perilous Miles series is done. You can download your copy here:
15 Miles From Home
The ART members raved about it so I hope you all enjoy it. Please, please, please leave a review when you finish it. If you're on the Advanced Reader Team, please leave a review now. Paperback will be up in the next few days, audio is started. Let me know what you think of it!
Read More

10 Foods And Items You Might Not Have In Your Prepper Supplies
By P.A. Glaspy on February 11, 2018
We've all heard the term "beans, Band-Aids, and bullets" as the basics you should have in your
prepper supplies
. These focus on food (and water), first aid, and security, which are all top priorities for preppers.
Read More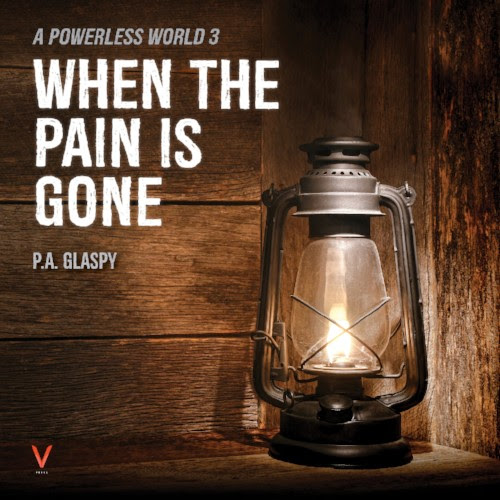 When the Pain is Gone now available on Audio!
Read More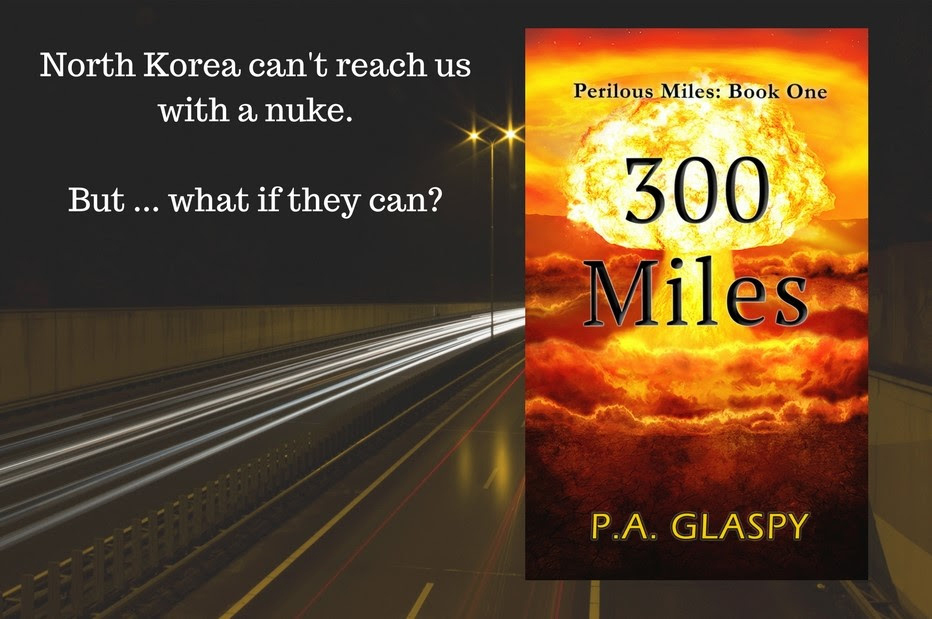 New Year, New Series!
Read More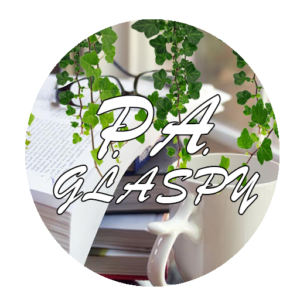 Whew – What a Year!
As the year comes to a close, I can't help but reflect back on the many changes I've been through. I thought I'd share them with you.
January – We closed on the new homestead the first of the month. My mom passed away at the end of the month. Jim quit his job to work on both places.
February – We moved to the new place the first of the month. Jim traveled back and forth between the two, getting the house in Nashville ready to sell, and fixing issues out here.
March – We put the house in Nashville on the market. It sold in about 24 hours. Was contacted by a small publisher about them taking on the A Powerless World series.
April – We closed on the old house and paid off both. I signed a contract with Vulpine; cut my hours back to be able to spend more time writing. Jim started remodeling the new place. Ordered baby chicks so I could have eggs. Wanted 8; ended up with 17.
May – Work started on the new cover designs with Vulpine. I took a week of vacation to help build a chicken run for the 17 chickens since we have coyotes, raccoons, and a lot of raptors out here. It was damn hot.
June – The books go through multiple edits; get an offer to do a multi-author series with Jackie Druga and Devon Ford; books go live with Amazon through Vulpine, sort of.
July – The glitches get ironed out; prequel and books 1 and 2 are up. Work begins on multi-author series. I take another week of vacation to help build another coop inside the run because these hens are huge. It was damn hot again.
August – Kind of quiet, but damn, it was hot! Yes, this is a recurring theme in Tennessee in the summer. Work on book 3 is almost complete.
September – Book 3 goes to the publisher for editing. Being overrun with eggs from the 17 hens, I commission my niece to make me a sign, so I can maybe sell some.
October – I get a couple of gigs writing articles for online media. Put the final touches on book 3. The sign goes up to sell eggs because the Egg Apocalypse has begun.
November – Book 3 goes live on Amazon. Job goes to hell, so I resign and decide to try writing full time. Eggs aren't selling, so I'm cooking them and feeding them back to the hens. Hey, it saves on feed.
December – So far, I finished book 1, 300 Miles, in the new series, Perilous Miles, and am 25% through book 2, title to be determined. Getting ready to launch book 1 after the first of the year; back to feeding eggs to the hens after taking a couple of weeks off to fill my aunts' holiday orders.
As you can see, it has been an eventful year, full of ups and downs, mostly ups; tears and laughter, mostly laughter; lots of changes and all of them, I think, were good ones. If you follow my Facebook page, you can share in a lot of them.
I am really excited about the new series, Perilous Miles. This will be a non-prepper prepper fiction storyline that I think will be quite reflective on much of today's populace. I can't wait to share it with you.
In closing, I want to wish all of you a Merry Christmas, Happy Hanukah, Happy Kwanza, Happy Holidays, as well as a pre-emptive Happy New Year. Thank you for your support of me and my work. I look forward to sharing more of it with you in the coming year.
Copyright © 2017 P.A. Glaspy, Author, All rights reserved.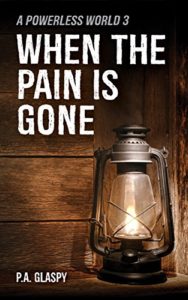 The big day is coming!
Did you miss me? 🙂 I know, I know, you thought it would never happen. I wondered myself a time or ten. But, we did it! When the Pain is Gone is launching November 3rd. You can pre-order it here:
When the Pain is Gone – Book 3
I'll send another email out on launch day, in case you decide to wait. Also, if any of you have missed any of the previous installments of my A Powerless World Series, you can find them here:
Before the Power was Gone – Prequel
When the Power is Gone – Book 1
When the Peace is Gone – Book 2
In other news, I've started a new series. Book 1 will launch sometime next year (notice I have not given myself a deadline this time). It will be prepper fiction from a completely different perspective. It's in the early stages, but the possibilities are endless for a great series. More on that later.
Thank you all for your input, reviews, and support. My readers and followers rock!
Copyright © 2017 P.A. Glaspy, Author, All rights reserved.

The day has come. The books have launched with the new publisher. Oh, and I'm getting close to halfway on Book 3.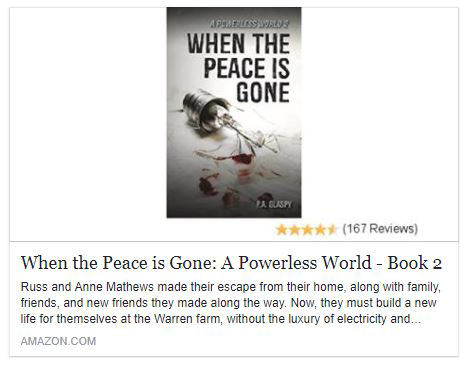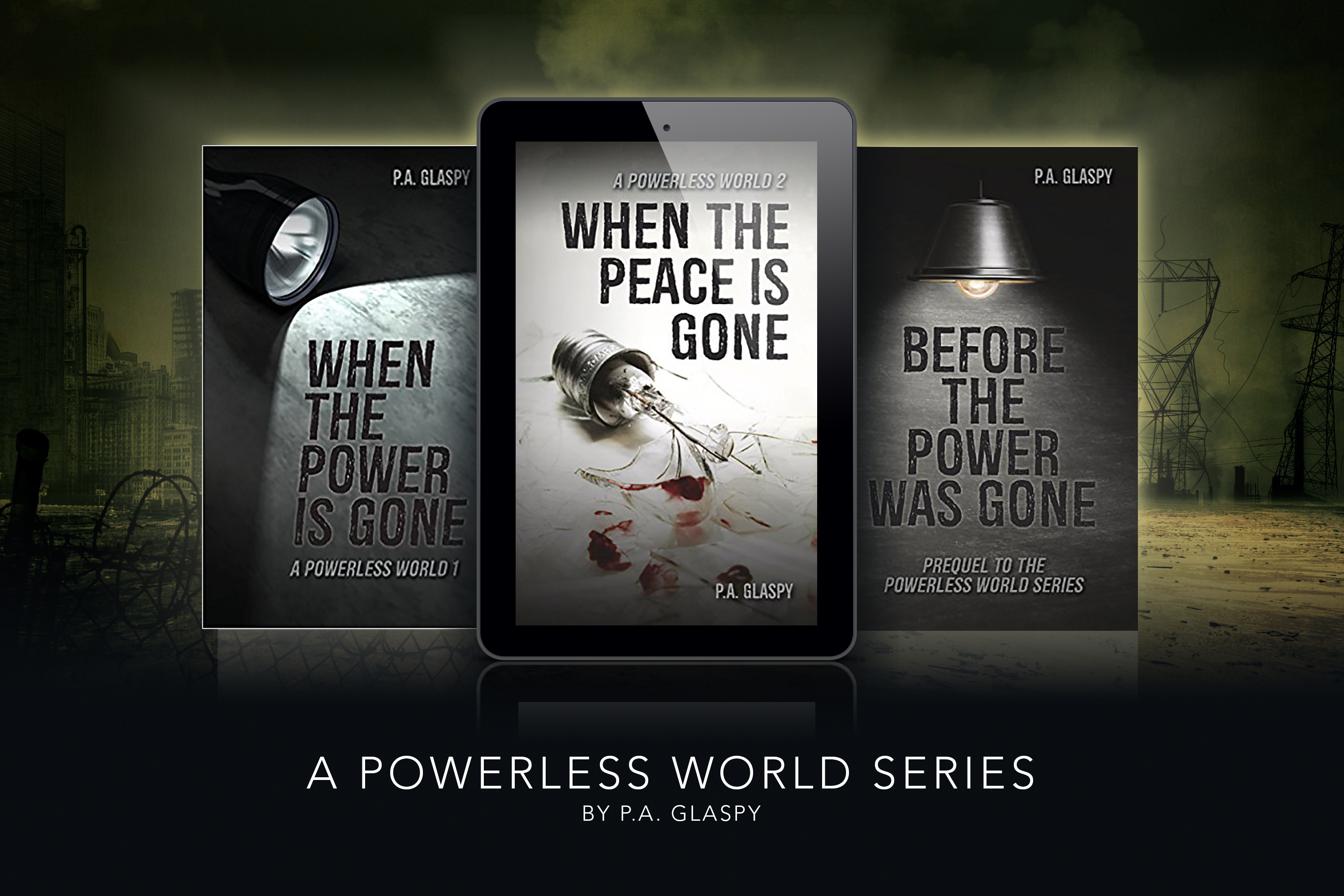 Happy New Year!
Just wanted to take a moment and wish you all a Happy and Prosperous New Year. May your dreams come true and may your hearts be filled with joy.
I have lots of plans for myself next year. Book 3 is well underway, and I have ideas for a couple of new ones working. Oh, and we're downsizing our city mortgage and moving to the country. Busy, busy, busy! (Ouch, ouch, ouch)
If you didn't see the Facebook post, the Audible version of When the Power is Gone has been launched. If you use that service, you can get the Audible version here:
When the Power is Gone Audible
Again, I hope you all have a wonderful 2017!

Anne's Farmacy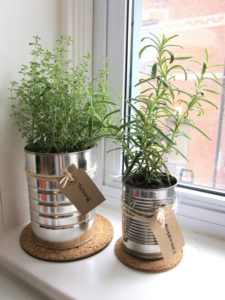 Many of you have commented on the valuable information of the medicinal herbs in Book 2. I've compiled a list of those and a few others. This is by no means all-inclusive in either the relevant plants or their properties. I strongly encourage you to do an internet search for "medicinal herbs", or go to Amazon and search "medicinal herbs free" for some free or cheap ebooks. Knowledge is power, and this knowledge could be worth its weight in gold if the SHTF. Got an empty window sill that gets good sun year around? You can plant your own farmacy!
Read More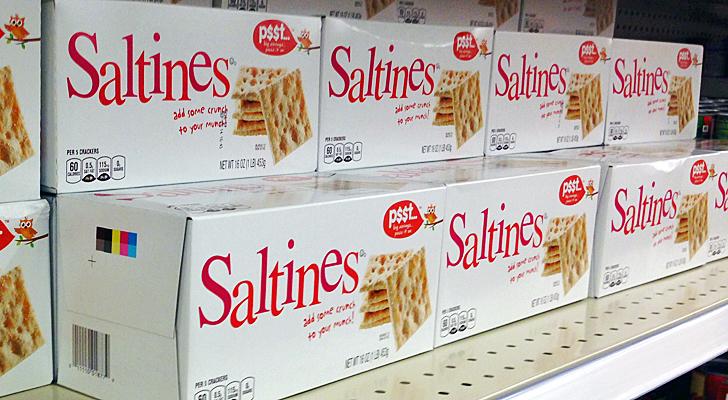 Prepping for Pennies…OK, Dollars
I hear people say it all the time: "I can't afford to buy anything extra for prepping. I'm on a budget. I just don't have the money right now." While I can understand this to a point, my response would be: "How can you afford NOT to?"
The people on the East Coast have been devastated by Hurricane Matthew. Some people will go days, even weeks without power. The grocery stores are empty. The roads are impassable in some places. Does any of this sound familiar, you know, like you read it in a book of fiction? Prepping isn't just about TEOTWAWKI. It's about being ready for any event that could disrupt your day-to-day life. So, what can you do if you don't have the money to invest in a year's supply of food for a family of four in one fell swoop? The answer – buy cheap. Here's a few suggestions.
Read More