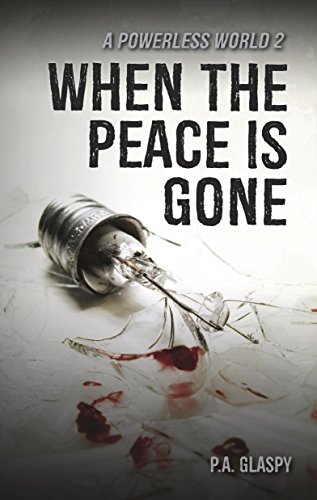 When the Peace is Gone
A Powerless World – Book 2
Russ and Anne Mathews made their escape from their home, along with family, friends, and new friends they made along the way. Now, they must build a new life for themselves at the Warren farm, without the luxury of electricity and very few traces of the 21st century.
The problem: there are a lot of people who didn't prepare for something like this, and some of those people will stop at nothing to take what the group has, by whatever means necessary. They must protect the farm and their supplies day and night from those who would do them harm to acquire them.
These people are not soldiers. They are everyday people like you and me. They're building a clan. How far will they have to go in order to secure the safety of the ones they love in their new home? What price will they pay in the process?
When the Peace is Gone is the second book in the A Powerless World Series, dealing with how life might be lived after an EMP. If you like post-apocalyptic fiction, this continuation of the story by P.A. Glaspy is a unique story from a woman's point of view.
Pick up your copy of When the Peace is Gone today!