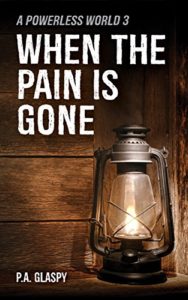 When the Pain is Gone
A Powerless World – Book 3
They thought they were safe, somewhat hidden from the world. They were wrong.
They thought they knew how to protect themselves and each other. They were wrong again.
In the blink of an eye, they lost people, good people, who were trying to help others. When the evil outside the farm finds its way in, how will they react? Will they hide themselves away, or join in the fight for survival and freedom? They've paid the ultimate price. How much more will this new way of life cost them?
Pick up your copy of When the Pain is Gone today!