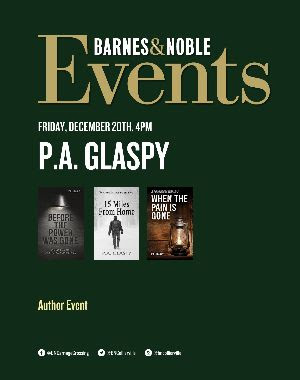 I wanted to take a moment to wish you all a joyous holiday season and to let you know about an event I'll be attending.
No, book 5 isn't done so don't get too excited.
BUT, I will be doing a book signing event at Barnes and Noble (yes, an ACTUAL book store!) in Collierville, TN Friday, December 20th, from 4 to 7 PM. If you're in the area I would love for you to come out and say hi. If you have some of my paperbacks, bring them to get them signed. I'll have a few giveaways and lots of smiles and hugs. There's a link to the event on my Facebook page in the image above. Y'all come!
May your holidays bring love and great memories to you and yours!
Copyright © 2019 P.A. Glaspy, Author, All rights reserved.